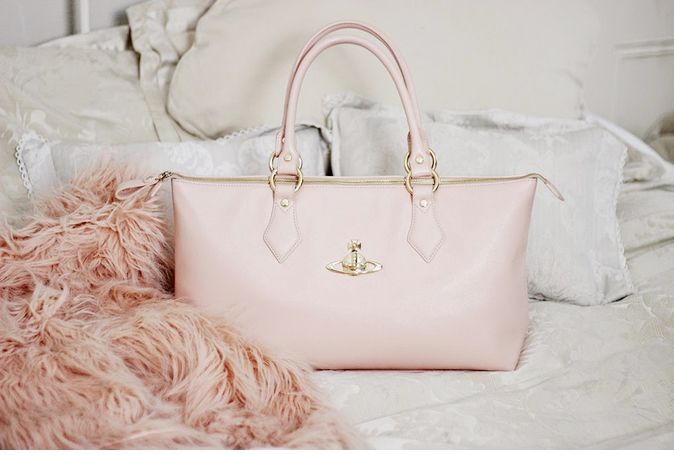 Let me introduce you to the bag of my dreams. If you read my blog you will already have seen this about 50 times … But still, how pretty is it?! Vivienne Westwood is one of my favourite designers, I think that they're a great brand if you're looking for an amazing, stylish bag that won't leave you broke for the next 5 years.
I've never been someone who can stick to carrying around just essentials with me. At the moment, you will always find my Kate Spade agenda in my bag. I love feeling organised and having somewhere to keep track of my week, writing things down always helps me to visualise my goals. This one is sold out but you can browse Kate Spade notebooks here.
For daily essentials, I love my Vivienne Westwood faux snakeskin purse. I've used it everyday for over a year and it still looks new, although I love that slightly worn in effect. I have since upgraded to an iPhone 6 since writing this post, but you can always count on Primark for cute phone cases. At the moment I'm using the 100% Mermaid case by Skinnydip London, which will be making an appearance soon on my blog!
When it comes to make-up, I tend to use my Zoeva brush case to carry around the essentials. Lately, that's been a brown eyeliner from Bourjois, the new Benefit Roller Lash and the NARS creamy concealer, everything I need for touch-ups throughout the day. I usually have about 5 lipsticks in my bag, but lately I've been loving this pink shade by YSL, perfect for an easy every day lip. The NARS Virtual Domination cheek palette is also an essential that comes everywhere with me – it's complete with everything you need to bronze up your skin or give a cute pink blush to the cheeks.
Do you like this bag? What do you always carry around with you?
Lydia Rose,
xoxo